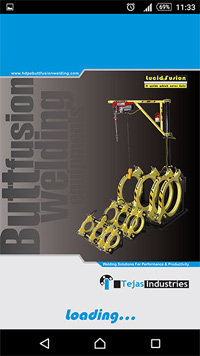 ANDROID APP DEVELOPED BY TEJAS INDUSTRIES FOR ITS BUTT FUSION WELDING MACHINES.
Tejas Industries has developed its "lucid Fusion" app for its Butt Fusion Welding Machines. "lucid Fusion" provides welding parameters in very easy steps.
Features :-
Select Language options: Hindi, English.
Go to Calculate and select Lucid Fusion Butt Fusion Welding Machine model.
Select Pipe Size then Pipe grade and Pressure ratings to show Jointing pressure.
Manually input Drag pressure and press Calculate to show all Welding parameters.
Input these parameters in PLC.